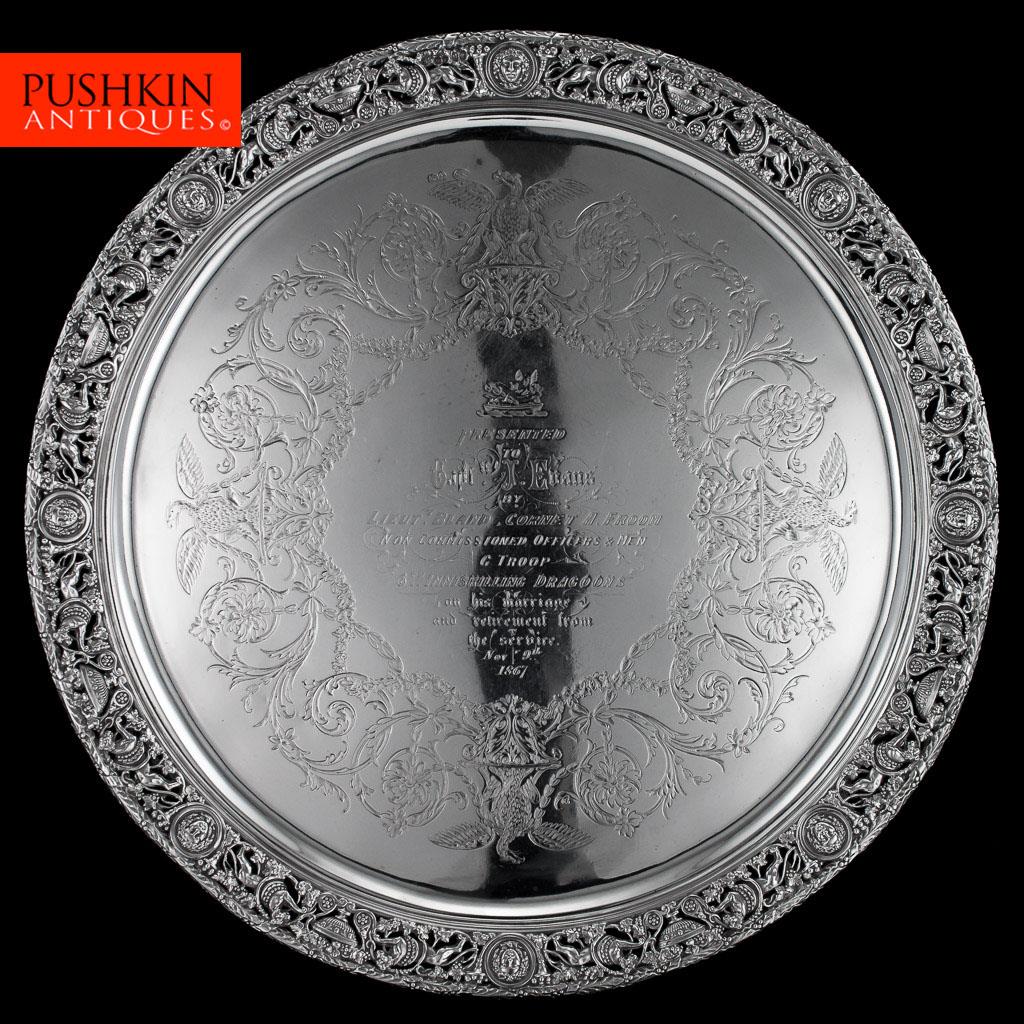 ANTIQUE 19thC VICTORIAN CELLINI SOLID SILVER SALVER, S.SMITH, LONDON c.1868
CONTACT US:



[email protected]

+44 (0) 208 5544 300

+44 (0) 759 5595 079



VISIT OUR WEBSITE:

www.pushkinantiques.com
Description
Antique 19th Century Victorian Impressive "Cellini" solid silver salver, the pattern is so called in honour of Benvenuto Cellini, the sculptor and goldsmith of the 16th century, considered the greatest of all time. The salver is beautifully decorated with the typical masks, animals, strap-work, overflowing grape cornucopias on realistically modelled lion paw feet. The center is engraved with a crest and a presentation enscription.
Hallmarked English silver (925 Standard), London, year 1868 (n), Maker's mark S.S (Stephen Smith & Son, 35 King St).
CONDITION
In Great Condition – No damage, just general wear.
SIZE
Height: 3cm
Width: 42cm
Weight: 1715g
REFERENCE NUMBER: A4344
Payment
PayPal
PayPal is a Safe, Fast & Free way to pay online, its free to register and as a buyer you will not be charged for money transfers.
PayPal account – [email protected]
Card Payment
Call us between the hours of 09.00am – 6.00pm GMT, Mon – Fri, to make a payment.
Within UK: tel 0208 5544300
International: tel +44 (0) 208 5544300
or email: [email protected]
"we do not store credit card details nor do we share customer details with any 3rd
parties"
Cheque / Postal Order / Cash
Pushkin Antiques
Shop 111, Grays Antiques
58 Davies Street
W1K 5AD
London
United Kingdom
U.K
Bank Transfer
Account Name: Pushkin Antiques Ltd
Account Number: 53409023
Sort Code: 20-44-22
Bank Address: Barclays, 93 High Road, Ilford, Essex, IG1 1DE
International Transfers
IBAN: GB36BARC20442253409023
BIC (swift code): BARCGB22

Shipping
– All items are cleaned and inspected before being dispatched; we only use the best packing materials to insure your item reaches you safely.
– After the payment is made the item will be dispatched in 1 working day.
– We use Royal Mail recorded service, Parcelforce & FedEx, tracking number is provided on request.
– All items are fully insured and sent at the risk of Pushkin Antiques Ltd.



Auctiva,
The complete eBay Selling Solution.